We are looking forward to being in Louisville, KY for one of the biggest events for Public Safety professionals in the USA. This year's NENA Conference in Kentucky is June 11th - 16th, 2022. This is an amazing event with many networking opportunities, educational keynotes, and 5 days of breakout sessions. We hope to see you there!
---
Click to jump to our Event Recap section updated on June 21st, 2022.
Evans is Public Safety: NENA 2022
Our team will be at the Kentucky International Convention Center at booth 721. Tanya, Megan, Chris, and Alex will be ready to talk with you about your next public safety project. We are also giving away an awesome prize at the event so keep reading to learn more.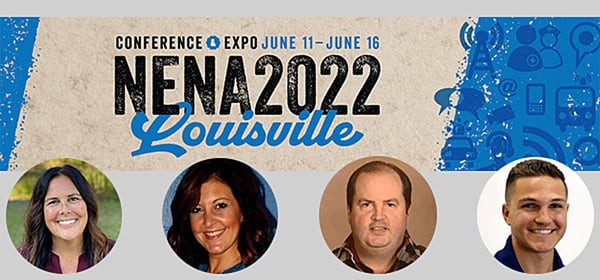 This conference is focused on topics on technical training in the field, learning current strategies, and building your network of like-minded individuals as a public safety professional. The show will also feature new technologies and equipment in order to have the latest tools available for emergency call handling. Join us as we showcase the latest in console design and technology in the public safety space.
---
Connect With Evans at Booth 721
We are excited to once again connect with you in Louisville, Kentucky, and make this another memorable conference. Evans has been a long-time supporter of the public safety industry and we are proud to sponsor such an amazing event. Sponsors like us keep the even running!
---
Enter to Win! Meat Snack Crate
Drop your business card off at Booth 721 to be entered into the draw for a crate of delicious jerky bags. It includes beef jerky, steak jerky, and even a honey jalapeno jerky flavor. Stop by and enter to win this prize at the conference!
There are lots of things to do in Louisville, plan some sights, sounds, food, and drinks in the city after the conference. Watch the official #NENA2022 video below for some ideas and to get excited!
---
Why should you continue the conversation with Evans?
We have some exciting topics to chat with you about. Come visit us in the booth to discuss:
How to keep pace with the latest technology in the public safety space, and learn how you can leverage it in your operations to support your telecommunicators

Improve your professional development skills, as well as develop a peer network of like-minded individuals in public safety

Our premier console cleaning service, EvansCare, and how it can help boost morale and protect your investment in your Communications Center
How connecting people and technology seamlessly together can elevate processes and standardize the 911 experience for your community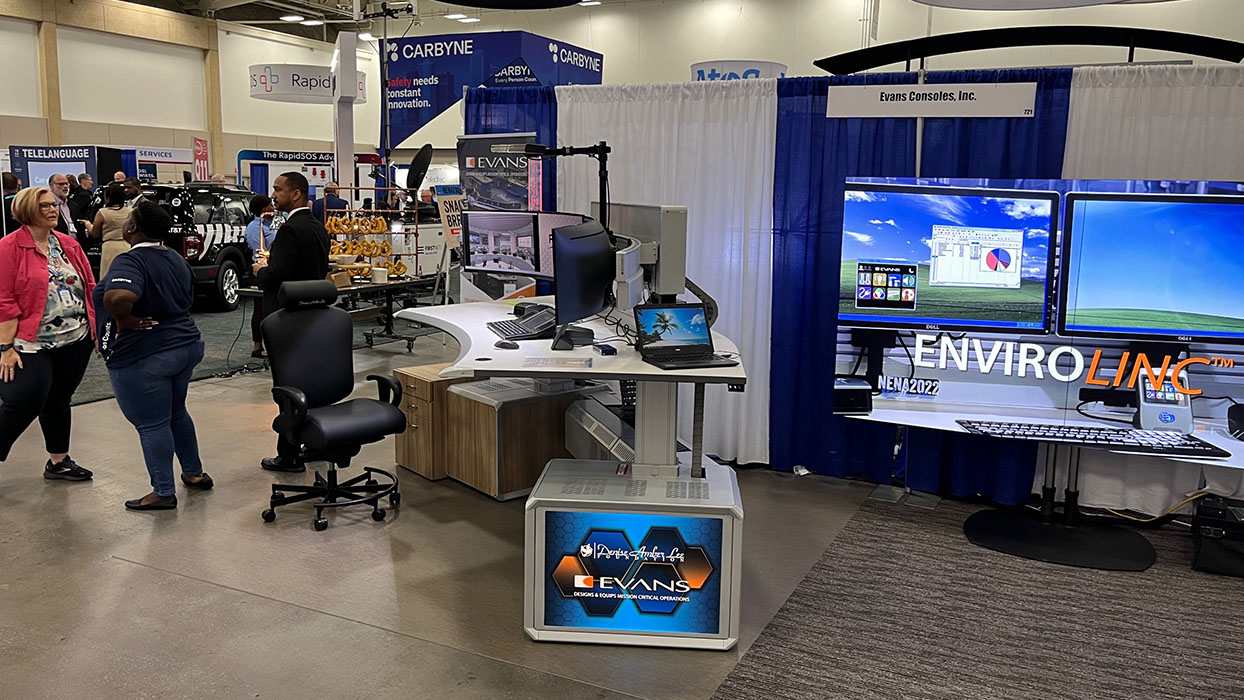 ---
Event Recap:

Top 5 Things We Learned from You*

*Update added on June 21st, 2022.

After talking with our Evans team members who attended NENA 2022, we put together a list of your "Hot Topics". While some of these items have been top of mind in the industry for years, it just goes to show that we need to constantly strive to improve our offerings and make them as seamless as possible for you and your team to do this job effectively and efficiently:
Here are the Top 5 things we learned talking to public safety professionals in Kentucky:
Health & Wellness - This is the number one topic in the public safety industry right now. Evans has implemented a strong focus on health & wellness through our

EvansCare

maintenance program and implementing proper ergonomics. Top-of-the-line creature comforts and lighting solutions, keyboard, video, and mouse (KVM), and quality A/V solutions that support overall dispatcher mental health are top of mind for all of us in today's "new normal".
Investment in Personal Comfort - Temperature control is still a "hot" topic (no pun intended!) in your 911 center. It's not easy keeping everyone happy in any center when it comes to temperature. Giving each position a proper heater built into the console allows telecommunicators to feel comfortable and focused on the job - not the climate. Our

EnviroLinc

touchscreen interface, available on all our product platforms,

allows you to control desktop fans, lighting, and that all-important heater through incremental adjustments that allow you to customize your console how you need it.

Medilux Task Lighting - We introduced this lighting solution on our Response NEXTGen Console

at NENA and it was a HUGE hit. This sleek and useful light replicates the pattern of the sun and allows operators to more closely match their bodies' natural circadian rhythm. This helps with alertness levels, productivity, and improves health over time.

Weytec Cutting Edge Dispatch Room Technology - Simplifying technology for your operators by combining multiple monitors and keyboard, video, mouse (KVM)

setups is always a hot topic in 911. Weytec provides a top-of-the-line KVM

solution that wowed many of you at the conference! Weytec helps make your dispatch center more agnostic by

reducing the need for additional consoles. This solution helps alleviate the struggles with

overtime and staffing problems, allowing

each operator to perform any task, dispatch, call take, NCIC, etc., at a single console with a single keyboard and proper credentials. Push and pull content with the touch of a button and let your people know what's happening in your community instantaneously!
Durable Consoles for 911 Emergency Centers - 911 centers do not have time to worry if their equipment will work during an upset scenario. Building a durable console, like the Evans Response NEXTGen console one that will last for 15-25 years vs one that constantly needs service or replacement within 5-10 years, does not support the proper return on investment that 911 centers need from a console project today. Funding is always an issue and while it may be more costly in the beginning, building a better console that lasts provides a greater ROI than purchasing the most cost-effective option today.
We are so excited that Public Safety tradeshows are back in full swing! It's a wonderful opportunity to speak to you one-on-one and find out what is important to you and to the future of 911. Evans believes in continuous improvement and is constantly looking for ways to improve our product offerings to suit your everyday needs. Through our conversations with you, we gained valuable insight that helps provide the best solutions possible that are specific to the public safety industry. Thanks to you we will continue to improve with the goal of delivering these positive impacts back to you in the future
Thanks for reading our event recap and we hope to see you at our next event! Subscribe to our blog at the top of this page or follow us on social media by clicking the links below.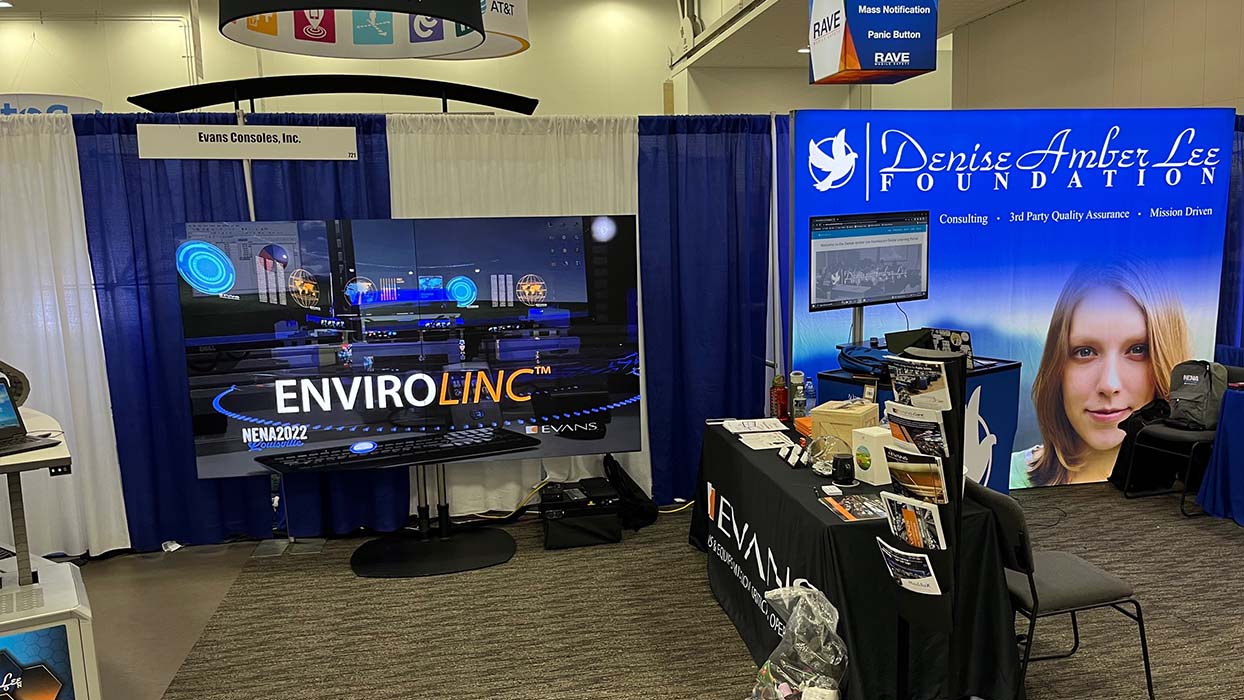 ---
Follow Evans on Social Media
We want to hear from you on social media, share our content if you enjoy it, and don't be shy...shoot us a message!
---
Thanks for reading what we are up to and we hope to see you at one of our upcoming events. If you are interested in finding out more about Evans outside of our events here are some quick links to browse:
---
Topics: Events