Open, Ergonomic Design for Remote Technology Applications
With our Strategy Air Console, durability and state-of-the-art modern open design seamlessly come together. Offering up the latest in operator ergonomics, cable management, and technology integration, this fully scalable, flexible technology console solution is perfect for control rooms that utilize remote server technology. Strategy Air can be designed in both sit-stand and fixed height variations.

---
Supporting Your IT Infrastructure & Strategy Air Accessories
For modern technology control rooms, Strategy Air embraces remote sever and blade technology environments, freeing the operator from console-based PCs. Add the optional PC case, and Strategy Air can fully support more traditional technology infrastructure. Strategy Air incorporates optional pop-up and Slatwall power and data access including USB, DVI, Power, HDMI, and Cat6 all prewired for easy connectivity. The choice is yours.
Strategy Air incorporates the latest in Slatrail support technology designed to can handle a variety of mounted accessories, including large monitor arrays. The Slatwall is available in a single, double, or triple high configuration and the Slatrail can even be curved to fit within a curved console configuration.
Configuration Flexibility & Tailored Console Solutions
Designed to push the boundaries of tailored solutions, Strategy Air can be configured in many ways to improve workflow and increase collaboration between workstations. As a stand-alone unit or part of a custom workgroup, this new technology console offers enough flexibility to fit perfectly into any command and control room environment.

---
Flexible Cable Management & Concealment
Strategy Air's proprietary cable management system masterfully conceals unsightly cabling, while allowing for easy access for future modifications. Utilizing the Slatwall, monitor well, and frame, Strategy Air provides ample storage and channels from all accessories to the power source while allowing you to expand or contract based on your technical needs.
Environmentally Conscious - Greenguard Certification
Being environmentally conscious is no longer a choice - it's a necessity. Strategy Air is designed from the ground up with the environment in mind. The Strategy Air technology console is Greenguard Certified and is 100% recyclable, making it the natural choice.
Temperature Controls & Situational Awareness
Adding personalized controls like temperature and situational awareness provides you with the ultimate working conditions for your team. EnviroLinc™ and LumiLinc™ will provide your high-tech control room operators with the ultimate working conditions.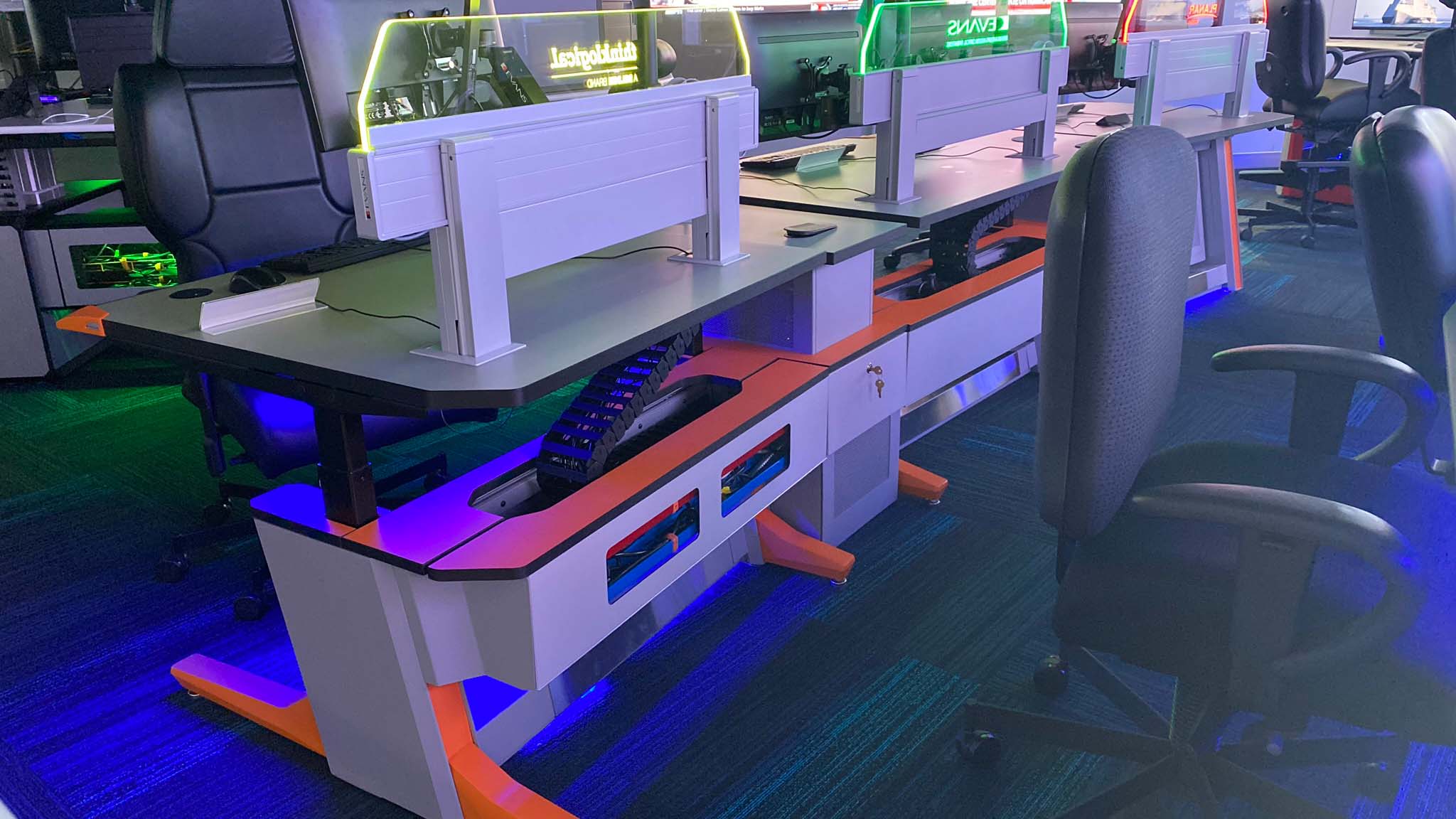 ---
How Can the Strategy Air Console Help Your Organization Level Up?
The innovative cable management system allows both the console and the operator to be free from IT infrastructure and cables while allowing you to easily expand or contract.
In addition to long-term durability, functionality, and a modern look and feel, Strategy Air has been ergonomically designed to enhance the health and productivity of operators in high-tech control room environments.
Limited only by your imagination, Strategy Air offers a wide variety of options. From endless work surface colors and patterns to customizable leg inserts. Strategy Air brings an unmatched aesthetic to your control room.
The Strategy Air technology console offers a removable PC holder for environments that require local PC access. And for those that incorporate remote server technologies, the PC compartment can be removed for a truly open-concept design.
The unrestricted workspace allows operators to interact freely, allowing for the open exchange of ideas and improved workflow between team members.
The modular connectivity of Strategy Air allows for greater layout flexibility, further contributing to an open work atmosphere.
---
Looking for a control room technology console that provides even more customizations? Read more about the Response NEXTGen Console and see how you can configure the design exactly to your needs. For any questions and if you are ready to get in touch with us, contact us by phone or web form anytime.
---