How do we know Evans consoles are built to last? Earlier this month we got to see just how tough they are. One of our tradeshow demos was in an accident while in transit, a 700-pound crate was dropped on our console. Our consoles take a significant amount of time to design and manufacture, and we look forward to showing them off. Unfortunately for us, the shipping crate took significant damage due to the accident. How did our console do inside the crate?
Evans NEXTGen Console Got Damaged in Transit
From the outside, it looked bad. The outer crate was completely broken and at first glance, our console looked severely damaged. The Unity Arm, which is what holds up the monitors and sits on the top of the console, was crushed. The side panels were scratched or had fallen off, and the nosing was gouged.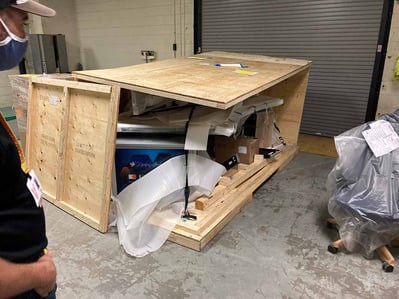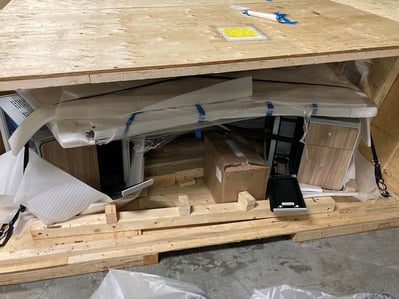 ---
Evans Consoles & Equipment:

Built to Last a Lifetime
However, looking past the physical aesthetic damage, the core of the console remained intact. Without the steel tubing that we integrate into each console, the worksurface would have been completely crushed with no chance of it being able to function. Due to the steel structure of the work surface, the console remained fully intact. The heavy-duty lift columns also played a part in distributing the weight of the fall and maximized the strength of the console. This is why we use strong lift columns, you never know what might happen!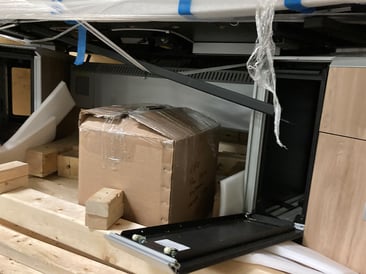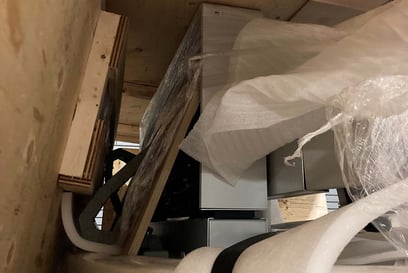 ---
Was the Crushed Console able to function and be put Back Together?
After we surveyed the damage, we found out that the heavy-duty lift columns still worked and most of the console remained unscathed. We were surprised at how it withstood this massive blow and was still able to function. It was a great reminder that our consoles are built to last.
That's the Evans promise, even to ourselves!
Here is a quick picture we took before we had to ship it out the door again, it looks like a normal console!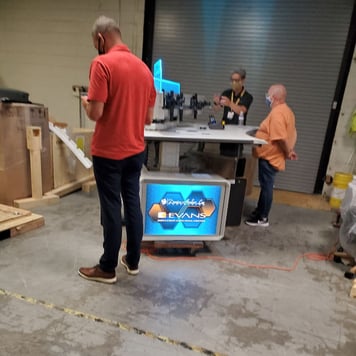 ---
Making Lemonade out of Lemons with a Broken Console
So even though life gave us lemons this time around, we crushed them into lemonade. Now we have a first-hand story to tell our customers about the resiliency and durability of our console equipment. Here's to hoping we crush more lemons and not anymore of our consoles!
Evans Lifetime Warranty and Console Guarantees
So what do we provide in terms of warranty guarantees for our customers? We want you to be confident in your purchase and we are positive your console will be built to last.
Evans offers a lifetime warranty on all fixed structural frame components;
Lifetime warranty on all static exterior panels and work surface components parts; with 5 years for labor;
Lifetime warranty on all adjustable, sliding, or hinged mechanisms or parts; with 5 years for labor.
Other components on our consoles including the
E-Arm
family,
EnviroLinc
, and
LumiLinc
systems come with a 3-year or 5-year Product Warranty. For our full warranty statement please
contact us
and we will provide you with detailed information. If you are looking for durable consoles you have come to the right place, the
Response NEXTGen
is our flagship console and is
built to last
.
---
Evans NEXTGen Console is the Most Durable in the Industry
Looking for a console or set of control room consoles that can withstand the wear and tear of daily use and last a lifetime? Our NEXTGen Console is one of the strongest and most reliable options we offer. Learn more about how our modular design and engineering specs make our product stand out. Click below to read about the Evans Response NEXTGen Sit-Stand Consoles:
---
Topics: Control Rooms, Warranty