We are looking forward to being in St Petersburg for the Annual FL APCO 2022 Conference on May 2-4, 2022. This is a premier event with many networking and educational sessions to attend for all public safety professionals in Florida. We hope to see you there!
---
We will be at The Hilton, Bayfront in St. Petersburg. This conference is focused on topics on technical training in the field, learning current strategies and enhancing your skills as a public safety professional. The show will also feature new technologies and equipment in order to have the latest tools available for emergency call handling. Join us as we showcase the latest in console design and technology in the public safety space.
Evans & Public Safety:
Tour the St Petersburg Emergency Communications Center!
This year, Evans is a proud Gold Sponsor for FL APCO. We are sponsoring an exclusive tour of the St. Petersburg Emergency Communications Center, which was in part built by Evans. You do not want to miss this event where you can see our innovative solutions up close and in action, and learn more about the Evans process.
Cycle and Sip with 911der Women
Want to get pumped up before the show and meet like-minded public safety individuals? Join us on May 1st for Cycle and Sip, a socializing event for all in public safety! Get your heart rate pumping with Megan Lewis, Sara Weston, and Tanya Lee!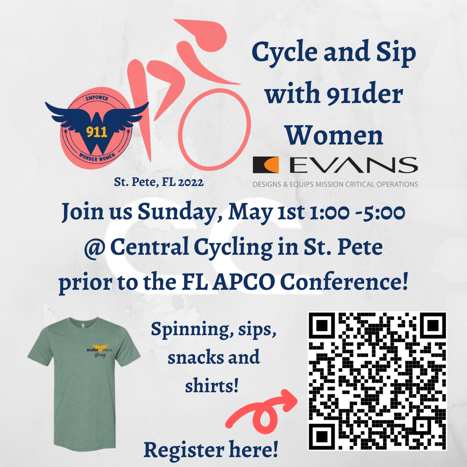 Why should you continue the conversation with Evans?
We have some exciting topics to chat with you about. In addition to furthering the discussions from FL APCO 2022 sessions and keynotes, we can further discuss:
How to keep pace with the latest technology in the public safety space, and learn how you can leverage it in your operations to support your telecommunicators

Network with others in the public safety space, and learn from leaders and their vast well of experience.

Our premier console cleaning service, EvansCare, and how it can help boost morale and protect your investment in your Communications Center
How connecting people and technology seamlessly together can elevate processes and standardize the 911 experience for your community
---
Follow Evans on Social Media
We want to hear from you on social media, share our content if you enjoy it, and don't be shy...shoot us a message!
---
Thanks for reading what we are up to and we hope to see you at one of our upcoming events. If you are interested in finding out more about Evans outside of our events here are some quick links to browse:
---
Topics: Events