It's tradeshow season! At the end of the month, we will be attending NENA 2021! Will you be attending? If so then follow us and then mention tag us on your favorite social media platform:
(Click the above social icons to find our profiles. Tweet, tag and message us! We want to interact with you)
Evans is attending NENA July 24-29 2021 in Columbus
We are pleased to announce we will be at NENA 2021, the annual conference focused on the public safety issues of today and tomorrow. This year, we are hanging out with the Denise Amber Lee Foundation at booth 1304! Come see two great teams at one booth!
The Denise Amber Lee Foundation is an organization that is committed to educating and training 911 professionals and standardizing protocols across the industry. DALF is committed to promoting and supporting the public safety industry through keynotes, training sessions, and presentations all over the country.
NENA is the 9-1-1 Association that strives to improve the 911 industry through research, standards development, training, and education. You will not only hear about the public safety issues of today and tomorrow but also gain practical, real-world know-how that you can take home with you and put into action immediately. This year, the event includes insightful keynotes, collaborative networking events, and focused workshops for continuous training. Attend nightly networking sessions and the Expo Hall that showcases the latest in cutting-edge products (that's where we will be!). Don't miss your chance to be a part of it!
Be sure to attend the "Unraveling PTSD: Dispelling Myths About PTSD in Public Safety" workshop hosted on July 29th to learn more about the mental health of the telecommunicator and how to safely identify PTSD. Or check out the breakout session "Burnout Before Three" on July 27th to learn about pacing yourself in the dispatch room and identify early signs of work fatigue.
Register for the event today:
---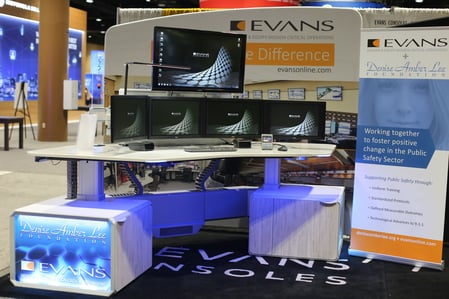 The Evans booth at NENA 2019
Why should you visit Evans during the conference?
THINK DIFFERENT - Learn how we can help you see your control room differently when planning for your next upgrade or layout design.
RESILIENCE IN THE FACE OF UNCERTAINTY - Learn how Evans' supported our mission-critical partners during difficult times this past year.
DENISE AMBER LEE - Meet with our booth partner, the Denise Amber Lee Foundation, and learn how we support their initiatives in training 911 professionals across the country.
THE LOVE OF PUBLIC SAFETY - Meet with our team of Public Safety experts – our team has unmatched experience in the industry we love!
---
Come Visit Us at Booth #1304!
You won't want to miss this educational conference with great opportunities to learn and prepare for the future of the emergency dispatch industry. Evans will be ready to talk to you about control room design and how to acquire the best consoles that best fit your space and team environment.
If you are attending this event then make sure you stop by Booth #1304 to visit us. We look forward to seeing you in Columbus! If you are not attending this event then do not despair, we have more announcements coming soon so make sure to subscribe to our blog and follow us on social media.
Thanks for readin' and have a great day. Remember to stay safe and stay hydrated!
---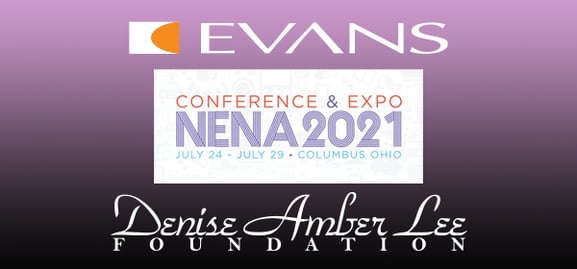 ---
Topics: Public Safety, Events