We built our reputation in real-world control rooms that have a direct impact on people's jobs, safety, and health. But sometimes opportunities come along for us to get involved with a different type of client. For Evans, these projects include using our expertise to build consoles for various movie sets. This post is about some of those projects and why we may or may not recommend building something similar for your own control room application.
Evans Consoles has had the pleasure of working on several movie sets, including Fast & Furious, Jurassic World, Geostorm, The First Hulu series, and others. The consoles designed for these movies and TV series are visually stunning, combining futuristic technology with sleek design to give the sets an otherworldly feel. However, it's important to note that these consoles were not designed for real-world applications, but for film aesthetics. The ergonomic needs of operators were usually not taken into consideration when designing these consoles, rather designed visually for a specific movie set. You will not see consoles like these in real-world, mission-critical control rooms. While Evans is always up for a creative challenge of a movie set control room, we prioritize operator comfort and safety when designing consoles for real-world applications. Whether you are looking for a movie set or a control room designed and built specifically for your operators, Evans is your partner.
---
Evans works with Universal Pictures on Fast & Furious 7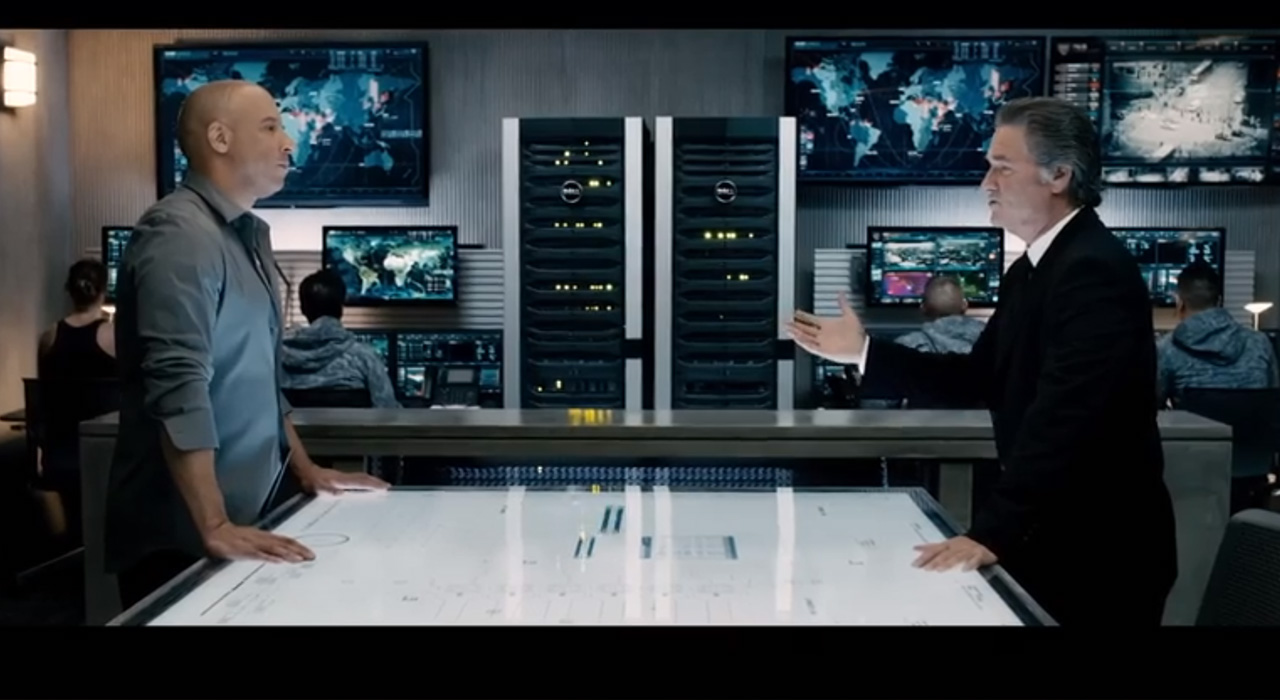 Actors Vin Diesel and Kurt Russell can be seen in front of the control room consoles designed by Evans for the movie.
---
Evans was asked to design control room consoles as seen in the fictional FBI Headquarters in Fast & Furious 7, by Universal Pictures. The workstation consoles delivered a modern authenticity to the film while complementing the sleek and stylish overall look. When Universal started developing the seventh movie in the franchise, they turned to Evans to design a modern control room console to fit their needs. Evans' control room solutions are more than just an attractive set piece; they are designed to solve the logistical problems that 24/7 mission-critical environments offer, from multi-user adaptability to 24/7 ergonomic comfort and durability. Our control rooms can be found around the world in 9-1-1 emergency dispatch centers, air traffic control towers, and real-life government facilities...not just fictional places where international car-racing rings are broken up. With products featured in several upcoming feature films, including Jurassic World and Furious 7, Evans is Hollywood's choice for innovative and authentic control room environments.
The seventh installment of the Fast & Furious franchise sees the crew returning to the United States in the hopes of living normal lives again, but a new threat arises when Ian Shaw (played by Jason Statham), seeks revenge for the death of his brother, putting the entire crew in danger once more. James Wan directed the film which also stars Vin Diesel, Paul Walker, and Dwayne Johnson.
---
Evans Continues Partnership with Universal in Jurassic World
Evans Consoles again worked with Universal Pictures to design control room consoles for Jurassic World. The consoles created for the movie combine set technology with a low-profile aesthetic.

Low-profile consoles built for Jurassic World look great! But talk about having a sore neck from looking down at that screen for 8 hours.
---
Movie Set Consoles Look Awesome, But Are They Functional?
We work just as hard and are just as proud of our work on movie sets as the work we do in real-world control rooms. The consoles built for Jurassic World and Geostorm give the sets a magical feel.
The ergonomic needs of the actors were not taken into consideration when designing these consoles, which could result in discomfort and potential injury if used by operators in an actual control room. Evans always prioritizes operator comfort and safety when designing consoles for real-world applications. While it's fun to see the consoles on the big screen, it's important to remember that they are not built for real-life use. We would only recommend such a low-profile console for Air Traffic Control Towers where operators need to see out onto airport runways. The consoles pictured above may kink your neck in other environments such as public safety.
Evans' expertise in designing for both fiction and reality makes them the perfect partner for film production companies and more bureaucratic organizations such as government facilities. Evans' proficiency in creating unique and innovative designs makes them an outstanding partner for any project and in just about any industry.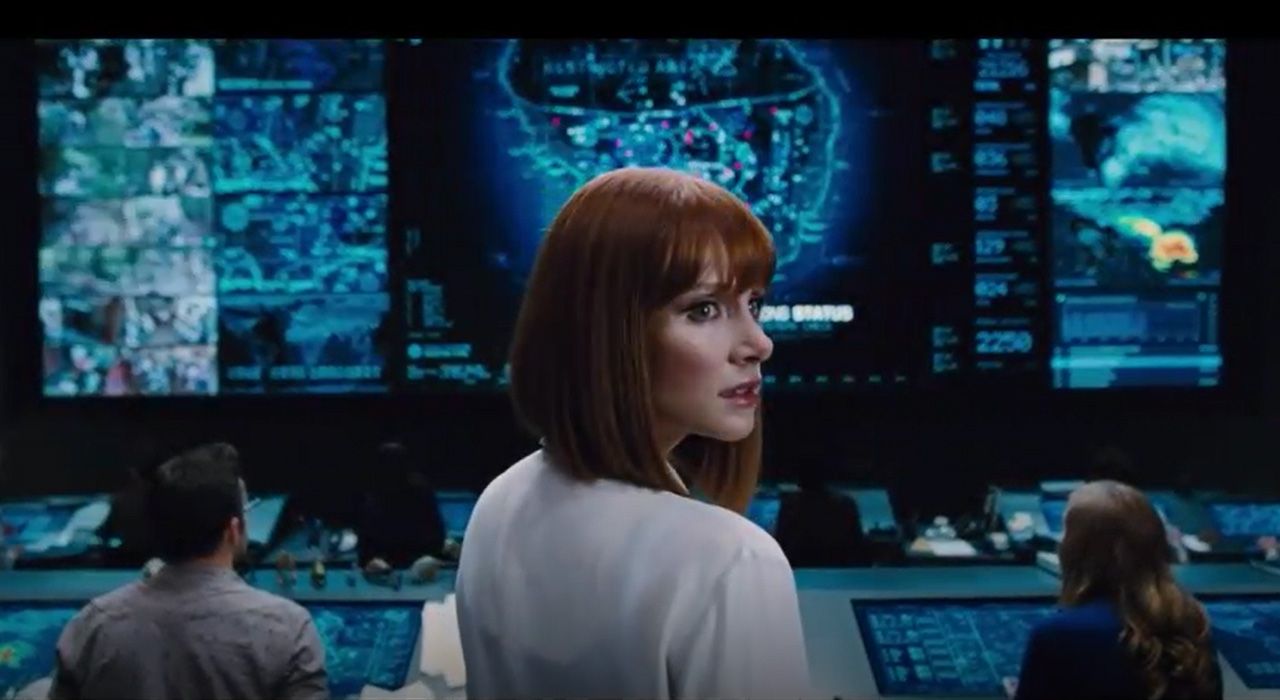 ---
News Article: Evans Consoles Behind Another Hollywood Blockbuster
"Universal Pictures lists Chris Pratt as the star of its summer blockbuster Jurassic World, but Calgary will also be among the credits thanks to the creative design engineering of Evans Consoles.

Twenty-two stations appearing in a super high-tech control room on screen were designed and built by Evans Consoles at its manufacturing plant. And they're not the first to be seen in feature films.

Universal first approached Evans Consoles to help build a set for Fast and Furious 7 and was delighted when after a 'paper napkin' drawing it was designed and built here then shipped and erected on time to the complete satisfaction of the studio."
Full article as written by David Parker of the Calgary Herald:
https://calgaryherald.com/business/local-business/evans-consoles-behind-another-hollywood-blockbuster
---
Jurassic World Video Clip featuring Evans Consoles Design
Jurassic World scene when actor Bryce Dallas Howard enters the Jurassic control center during a major park incident.
---
As the leader in designing and manufacturing 24/7 mission-critical control room solutions, we were chosen to design the mission control room consoles for the Jurassic World feature film by Universal. The state-of-the-art computer consoles blend current and future design and technology to give the set of Jurassic World a futuristic, yet grounded aesthetic. When Universal envisioned the central security control room in Jurassic World they knew the emotion they wanted it to evoke but ultimately turned to Evans to make it a reality. Evans has been providing custom control room solutions around the world since 1980 manufacturing, designing, and installing innovative workstation solutions for mission-critical and technology-intensive environments. Evans control room solutions are more than just a good-looking set piece, Evans solutions are designed to solve the logistical problems that 24/7 mission-critical environments offer, from multi-user adaptability to 24/7 ergonomic comfort and durability. Their control rooms can be found around the world in 911 dispatch centers, air traffic control rooms, government facilities...and now even Jurassic World. Set twenty-two years after the events of Jurassic Park, Universal's Jurassic World is a celebrated installment in the successful franchise.
---
Evans Design Featured In Warner Bros Movie Geostorm
Warner Bros. turned to Evans Consoles for accurate control station designs for the film Geostorm, starring Gerard Butler.
Evans designed every aspect of the control station in the film. The fictional control station is the central location for controlling the satellites that in turn control the weather.
View the consoles in the following clip, do they look ergonomically designed to you?
Again, they Look Great, but they are not Ergonomically designed and may not perform well in an actual control room.
---
Evans also designed the mission control room on the Hulu series The First, starring Sean Penn. The show tells the story of the first humans heading to Mars. Evans equipment has also been featured in Armageddon, starring Bruce Willis, and Space Cowboys with Clint Eastwood and Tommy Lee Jones. They were both shot at real NASA control rooms designed by Evans Consoles. Additionally, if you watch any of the NASA live streams you will often see our consoles featured in their events. For example, this recent spacewalk where Steve Bowen and Woody Hoburg installed new solar panels on the Internation Space Station featured our consoles.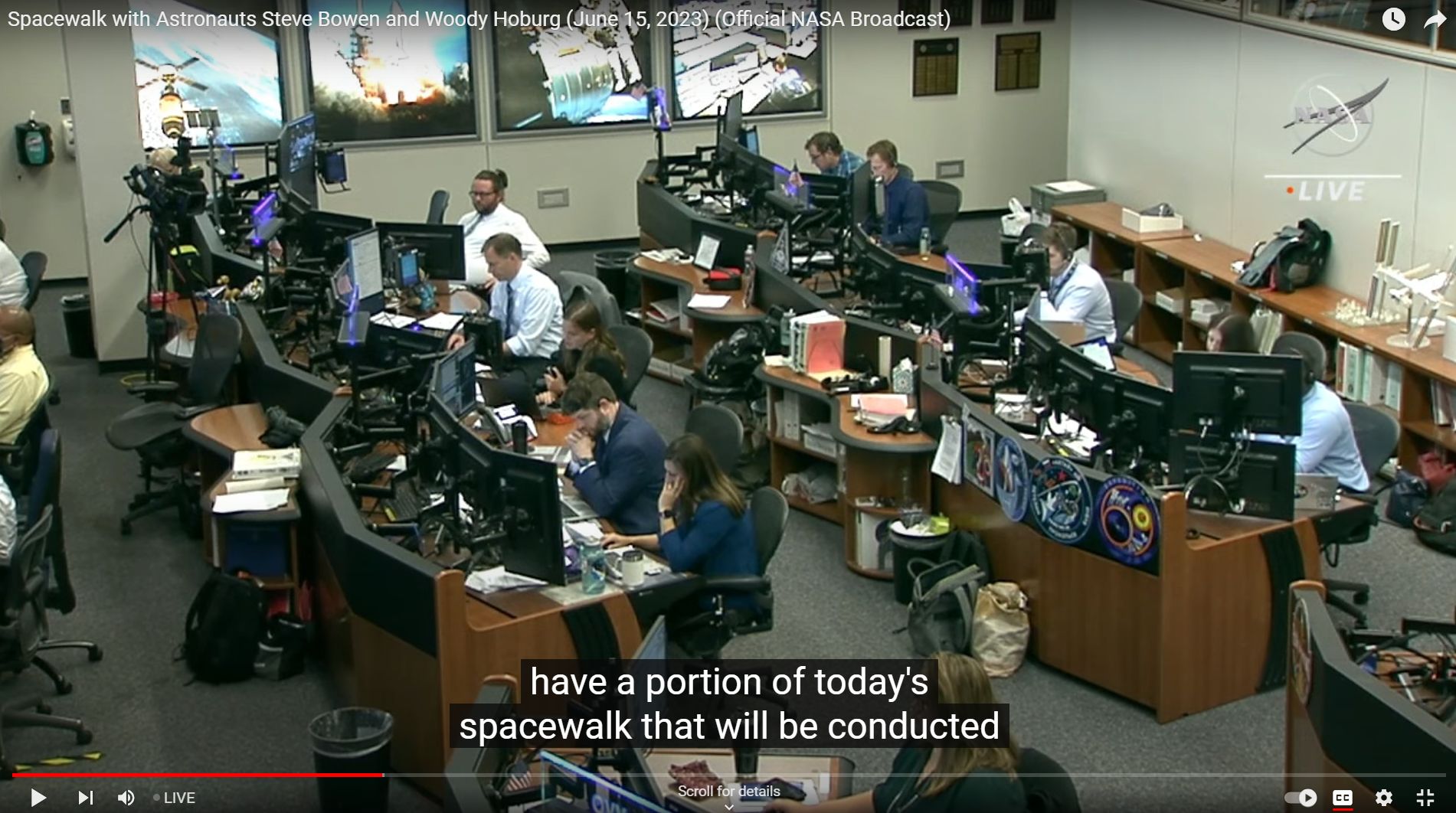 Capture from the NASA live stream on YouTube where the Roll-Out Solar Array is installed on the ISS on June 15th, 2023.
---
We are proud to see our consoles in all these movies, TV series, and live streams. Aside from the real NASA control room above, it's crucial to remember that the ones on the big screen are not designed for practical use. You don't want your operator's backs and necks to be sore due to incorrect sight lines or ergonomic design. We plan to create something more in line with what we built for NASA and JPL control rooms.
---
Let us know what you are looking for and we help you design the consoles and the entire control room for your specific needs. Evans is your partner for movie sets and other real-world applications. A real-life control room is built for ergonomics and operator comfort, not just for looks. Reach out to us today and get started on planning your next project!
---