While it seems like everyone is currently working from home, it's easy to forget that it isn't an option for many mission-critical operations. While social distancing isn't really an option in a 24/7 environment, now more than ever, they need to be focused and able to perform their duties in a safe environment.

The Royal Canadian Mounted Police (RCMP) came to EVANS looking for a way to ensure their operations were able to continue during the pandemic. They wanted their team to feel safe in a hygienic environment and able to not worry about the person sitting next to them or getting support from a supervisor.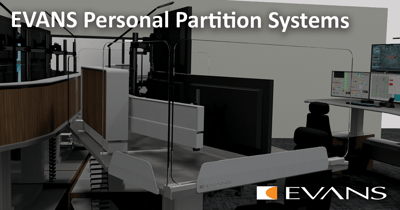 EVANS internal engineering team worked closely with the RCMP to develop a robust solution designed specifically for the RCMP's consoles. The Personal Partition System is a plexi-glass partition that can easily be secured to the console's outer edges to provide a physical barrier against contaminants. They also create a visual cue to reinforce social distancing measures. The partitions can then be stored on-site and reused as needed, ensuring safety for years to come.